Carrol L Henderson meets with Nick Halverson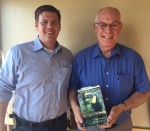 Earlier this week, Las Villas de San Buenas CEO, Nick Halverson, met with Carrol L Henderson, to exchange
their experiences and stories about Costa Rica. Mr. Henderson is a wildlife biologist for the Minnesota Department of Natural Resources and has written four books about Costa Rica's mammals, birds and wildlife.
During the 75 minute meeting, Carrol shared many stories of his travels around the world and his success in raising awareness of wildlife in Costa Rica. In fact, Carrol was instrumental in getting the Ballena National Park designated as a national park by using photographs he took of migrating whales, and having those compared to photos on file at the Cousteau Institute.
---
Prolific Writing
Carrol's four books about Costa Rica are: Costa Rica Wildlife, Mammals, Amphibians and Reptiles of Costa Rica, Butterflies, Moths, and Other Invertebrates of Costa Rica, Birds of Costa Rica
Carrol has spent a lifetime studying wildlife in both Costa Rica and in Minnesota, USA. He made his first visit to Costa Rica in the late 1960's, where he met and married his wife of 40 years+. Over the past 45 years, Carrol has documented every trip and every animal sighting he's had in Costa Rica. Armed with this data, he went on to write his books about wildlife in Costa Rica. He is constantly looking for updates and photographic proof of sightings so each new edition of his books is kept up-to-date. In fact, after the meeting Mr. Halverson sent Mr. Henderson some photos so that Carrol could identify the bird species in the photos.
Las Villas de San Buenas is committed to protecting the environment and due to this commitment, birds that were not seen 10 years ago in San Buenaventura are now common. Through working with professional horticultures, local experts and actively searching out other professionals (such as Carrol Henderson), Las Villas de San Buenas is continuing to improve the environmental diversity of Osa.
Small Town, Common Roots
It turns out that Carrol and the Chairman of the Board of Las Villas de San Buenas, Duane Halverson, both were born in Iowa and both were students at Iowa State University at the same time in the late 1960's.
Nick Halverson was also born in Iowa, and interestingly, both Nick and Carrol have a strong belief that to truly appreciate and enjoy Costa Rica, one must immerse oneself into the local culture and customs.
Costa Rica Birding Tours
Since 1987, Mr. Henderson has lead private birding tours for small groups of people. Every trip is unique and different from any other previous trips. If anyone is interested in learning more about his past trips, or the January 2016 trip, please send us a note.
NOTE: All of Carrol's books are available at national book sellers and Amazon.