House Designs
Costa Rica House Designs
Building Your Costa Rica Dream Home is

EA

SY

!
Our homes start at $50,000 allowing residents to own a Costa Rica home (including the lot) for only $70,000. From concept/idea to 3D models to the finished product, we work with you every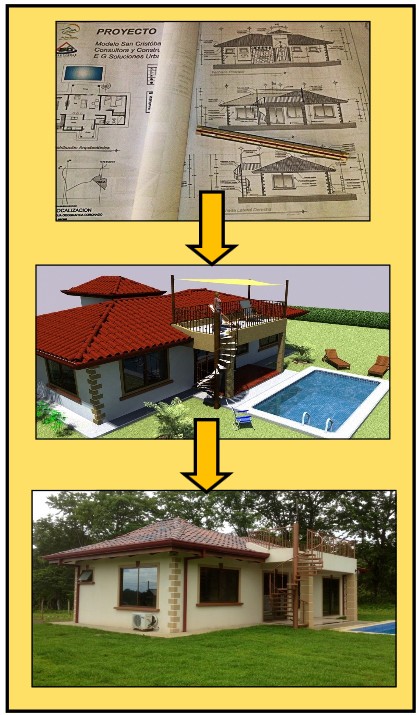 step of the way. We take care of all the building permits, water and electricity hook-ups and all necessary paperwork. When you decide to build (and there is currently no mandatory build time limit) you will be updated twice per week with photographic recaps to show you the progress.
How much does it cost?
We have a number of custom Costa Rica house designs available at all price points from $50,000+.
Our price per square foot starts in the low $80s and most homes can be built under $100/sq ft (including those with granite counters, cedar wood finishes, etc). Our prices include all fixtures (sinks, cabinets, etc) and all prices and contracts, are provided in writing, before any construction starts ensuring there is no confusion.
Home long does it take?
Typical homes (~1,500 sq ft) take approximately six months to complete from breaking ground until receiving the key in your hand. View a video of the process of one of our homes being built.
100%

Easy

, Turn-Key Construction
We've learned through our experience that customers are often overwhelmed at the prospect of finding a trustworthy engineer, architect and securing all of the proper permits. Because of that, our construction is 'turn-key'. You decide how involved you want to be – we have done everything from simply facilitating the construction between our customer and the builder to the other extreme of choosing paint options
and furniture options for the client. During the building process we provide you with photo updates of the progress on your villa twice weekly.
We will work with you to ensure you have the Costa Rica house or Villa you always dreamed of having. We work through every detail before starting construction so you know the total cost of the home up-front. Our building team has built 100's of homes in the area and are experienced in using a variety of materials and finishes including granite, tile and stone.
In order to protect your investment and ownership, management must approve all exterior home designs before a building permit can be issued. This is one of the great advantages of owning in Las Villas de San Buenas (not to mention the security, walking trails, amenities, etc!).
We were in Canada while much of our Costa Rican home was being built. However, the engineer gave us progress reports weekly, sometimes more than that. The workers worked long
and hard and did a fabulous job. We were surprised how quickly it went. The entire process went by so smoothly. The building engineer has a great eye for detail, very professional, very creative and flexible making sure we got exactly what we wanted.  Seriously, if you ask, do we recommend these guys? The answer is 'absolutely!'
– Liz T., homeowner