Will Viharo at the 2017 San Buenas Writer's Retreat
Will Viharo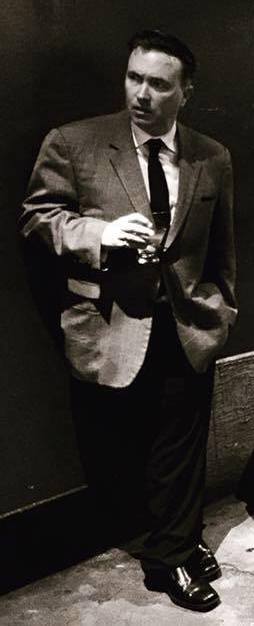 The dates for our premier retreat are January 29-February 4, 2017, and we at The Writer's Retreat of San Buenas couldn't be more pleased that Will Viharo is going to be our first guest author and instructor.
Will 'the Thrill' Viharo is a noted "gonzo pulp" fiction author, freelance writer, and B movie impresario. For many years he was best known as the producer, programmer and host of the long-running live "cult movie cabaret" called "Thrillville," which he hosted for many years around the Bay Area and beyond as "Will the Thrill," along with his wife, Monica "Tiki Goddess" Cortes-Viharo.
Now he has returned to his roots full-time as a freelance writer and pulp fiction author, contributing regular columns about vintage pop culture and the craft of writing to several publications.
His published bibliography includes the retrospective anthology series The Thrillville Pulp Fiction Collection featuring all of his standalone novels to date (A Mermaid Drowns in the Midnight Lounge, Freaks That Carry Your Luggage Up to the Room, Lavender Blonde, Down a Dark Alley, and Chumpy Walnut); as well as the definitive omnibus The Vic Valentine Classic Case Files: Fate Is My Pimp, Romance Takes a Rain Check, I Lost My Heart in Hollywood, and Diary of a Dick. All are now available via his own imprint, Thrillville Press.
Gutter Books reissued the first Vic Valentine novel, Love Stories Are Too Violent For Me in 2013. It was originally published by Wild Card Press in 1995, and has been optioned for a film by Christian Slater. In December 2015, Gutter published the most recent entry in the series, Hard-boiled Heart.
Additionally, Will has written two sci-fi collaborations with Scott Fulks, It Came From Hangar 18 and The Space Needler's Intergalactic Bar Guide.
For each day of this retreat, Mr. Viharo – now a resident of Seattle, WA – will lead a socially casual but intently focused group session wherein he will constructively critique participants' writing, provide experiential insights into the "cut-throat" business of publishing (both independent and traditional), and share creative techniques of self-discovery to help aspiring authors achieve their full artistic potential.
Praise for Will Viharo from his peers:
"No human being has absorbed more pulp culture and its seamy sexploitation underbelly than Will Viharo. Thankfully, his warped synapses and calloused, compulsive fingertips are able to repurpose it all and blow it back onto the page–desperate, demented, delirious, D-cupped … and many other D words as well." —Eddie Muller, Czar of Noir
"Besides the great style, plot, and characters, what I love so much about Will Viharo's work is his willingness to really go there in his depictions of sex and violence. The dude's not shy. At all." – Mike Monson, author/publisher, All Due Respect Books
"Will Viharo has to be the most Chandleresque author I know that's not actively trying to rip off the legend's style or paradigm in his fiction. Viharo's narrative voice is thunderous and commanding. One of the best kept secrets in contemporary hardboiled fiction."
-Benoit Lelievre, Dead End Follies
"Will Viharo writes not just neo-noir but neon noir, his Vic Valentine novels brilliant paeans to Chandler, Hammett, and other aspects of pop culture that Viharo clearly loves, from old B-movies to Frank Sinatra. But his roots are only a backdrop for Viharo's modernization of the detective genre. Vic Valentine is a detective who falls hard for his dreams, knowing full well that he shouldn't.  For Valentine it seems that the greatest defeat would be to give in to the idea that he cannot win. In Will Viharo's fast paced, witty and wise Vic Valentine novels, there is always hope, however hardboiled it may be."–Rob Pierce, author of Uncle Dust  and Vern in the Heat
 "In a cookie-cutter literary world chock-full of imitation and repetition, Will Viharo carves out a thoroughly original ride…Think David Lynch and Raymond Chandler catching a matinee together as the world falls apart. Sexy, smart, surreal. Can't recommend enough." –Joe Clifford, author of Lamentation, December Boys, and Junkie Love, on A Mermaid Drowns in the Midnight Lounge 
Visit Will's website
Author, Las Villas de San Buenas, Retreat, Will Viharo, Writers Retreat